I am delighted to have two pieces selected for this exhibition.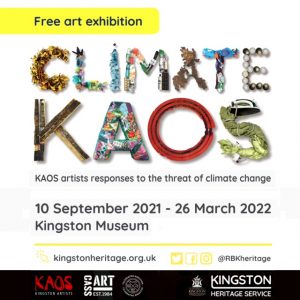 There is a wide range of art on show: digital media, sculptures and many mixed media and paintings. A key requirement was that recycled materials should be used to address the environmental emergency of Climate Change.
Unsurprisingly I used recycled kimonos.
The textile business is a huge contributor to CO2 emissions, waste and pollution.
The Japanese Kimono: a hand-made garment that was traditionally handed down through generations and valued for its utility as well as its beauty – the very opposite of fast fashion.